Venerable Dagpo Rinpoche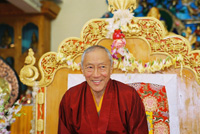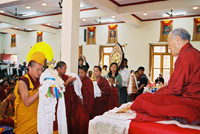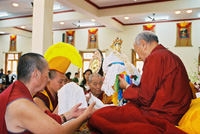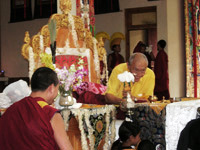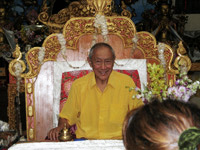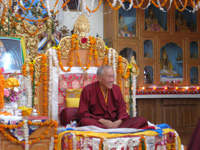 In Tibetan Buddhism it is the tradition to search for tulku – reincarnations of spiritual teachers who vow to benefit all sentient beings.
In February 1932 Venerable Dagpo Rinpoche was born in the region of Kongpo, in south-eastern Tibet. He was only one year old when His Holiness the Thirteenth Dalai Lama Thubten Gyatso (1876-1933) identified him as the reincarnation of a late 19th century master, Dagpo Lama Rinpoche Jamphel Lhundrup Gyatso, also known as Bamchoe Rinpoche. At six Dagpo Rinpoche entered Bamchoe Monastery where he was taught to read and write and was versed in the basics of sutra and tantra.
At thirteen he entered Dagpo Shedrup Ling Monastery (aka Dagpo Dratsang) famed for its high educational standards and its strict observance of monastic discipline. This monastery, dedicated to the study and practice of Buddhist philosophy (dratsang), dates from the second half of the 15th c. when it was founded by Je Lotroe Tenpa (1404–78), a disciple of Je Tsongkhapa (1357–1419), the founder of the Gelug Order of Tibetan Buddhisrm.
When Je Lotroe Tenpa met Je Tsongkhapa the latter gave him a copy of his Great Lamrim and advised him to establish a monastery in the southern region of Dagpo where it would be taught. He did so and by teaching the Great Lamrim extensively from memory to a large following came to be considered an "upholder of the lamrim teaching".
In the monastery classes were given on the five major topics – logic, pāramitā, madhyamika, abhidharma and vinaya – with special emphasis on the lamrim, the stages of the path to enlightenment. Every year in April a full session was devoted to it and every three years the abbot was required to teach a complete work on it. Due to this, it was widely practiced in the area and the monastery itself was also known as the Lamrim Dratsang (the lamrim monastery).
At Dagpo Dratsang discipline was strictly enforced for all, regardless of one's rank. Initially the young Dagpo Rinpoche was more interested in amusing himself than in studying, much to the despair of his teachers and his predecessor's disciples. One day however he became aware of their disappointment and touched by it, decided to try and meet their expectations. Subsequently he surprised the entire community by memorizing a large number of scriptures in record time. Equally suddenly he began to appreciate dialectical debates when one day he was able to swiftly refute an opponent's argument and win the match by quoting a work he had just memorised.
The book in question was none other than the Precious Garland of Tenets by Konchog Jigme Wangpo (1728–1791), the reincarnation of the great Kunkhyen Jamyang Shepa (1648–1722), a disciple of the fifth Dalai Lama. For Rinpoche this treatise was decisive for several reasons. Not only did it arouse in him an overwhelming desire to further his knowledge in general, it drew him so strongly to this author's works that he began planning a move to where he could study them in depth.
In 1956, as he was reading another work by Kunkhyen Jamyang Shepa, which he had difficulty fathoming, Rinpoche decided to end his eleven-year stay at Dagpo Dratsang and travel to central Tibet. Thus at age twenty-four he joined Gomang Dratsang, one of four colleges of the great monastic university of Drepung, which teaches Buddhist philosophy using the treatises by this master and his successor. At Drepung Rinpoche studied mainly under the great Geshe Ngawang Nyima Rinpoche. As Gomang Dratsang was close to Lhasa and to the other two major Gelug monasteries in central Tibet, Sera and Ganden, he was able to study under and receive transmissions from many other masters as well.
He stayed at Drepung Gomang until the 1959 uprising. Due to the increasing repression by Chinese occupying forces, Rinpoche decided to follow his masters and seek exile in a free country. Eluding mass arrests, he managed with difficulty to cross the Himalayas with his close Dharma friend, Geshe Thubten Phuntsog-la, who had been with him since his years at Dagpo Dratsang.
Soon after reaching India he met academics from the Ecole Pratique des Hautes Etudes in Paris. Impressed with his knowledge and open-mindedness, they invited him to France to collaborate on their research and translation work. Thus with His Holiness the Dalai Lama's permission and accompanied by Geshe-la, in 1960 Rinpoche became the first Tibetan lama to immigrate to France. He worked in Paris first with various academics and then at I.Na.L.C.O, a school for oriental studies, where he taught Tibetan language and culture and trained many translators until 1993.
In 1977 Rinpoche finally gave in to his students' repeated requests and his own masters' urging to teach Buddhism and once he started, he never stopped. In 1978 he founded the Tibetan Buddhist centre Guépèle Tchantchoup Ling at L'Haÿ-les-Roses, near Paris. In July 1995 it became the first Buddhist congregation of the Gelug Order to be officially recognized in France and was renamed Ganden Ling Institute for the occasion. It works in collaboration with the Guépèle Institute, a cultural organisation, and Entraide Franco-Tibétaine ("Franco-Tibetan Mutual Aid"), a humanitarian organisation, that supports the elderly, children and monks in Buddhist communities in India.
Venerable Dagpo Rinpoche has created several other Buddhist centres in France and abroad: in Holland, Switzerland and South-East Asia, which he visits frequently. Since he has been living in France for nearly fifty years, he is very familiar with Western mentality and speaks both French and English. He has co-authored many books and articles on Tibet and Buddhism and has often appeared as a guest on radio and television shows.
Rinpoche travels regularly to India to teach in his monastery and to continue receiving guidance from his own spiritual masters. He has over forty, including both tutors of His Holiness the Dalai Lama, Kyabje Ling Rinpoche and Kyabje Trijang Rinpoche, as well as His Holiness himself. Under them he has studied sutra and tantra, received numerous tantric initiations and accomplished retreats. Among the masters of his generation still alive today, Rinpoche is one of the few to hold such a large number of teaching transmissions whose lineages go back to their source, Buddha Shakyamuni. In addition he has studied supplementary subjects such as poetry, grammar, history and astrology.
Venerable Dagpo Rinpoche is a spiritual guide whose humility, kindness and infinite patience have always made him extremely accessible and helpful to others. He continually makes the treasures of his tradition available to others in the hope that they may benefit from them. He is a living example of the Buddha's teachings. His great learning along with the depth and clarity of his instructions, which are directly applicable to daily life, attract an ever-increasing following. All those who have had the opportunity to listen to his skilful discourses or ask him for advice, by applying them have found the kind of peace of mind and increased inner resources that only exceptional beings can inspire.
His autobiography, Le Lama Venu du Tibet, has been published in French by Grasset and in Dutch under the title De Lama die naar het Westen kwam. An enlarged version in English is in the process of elaboration.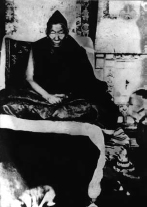 Dagpo Lama Rinpoche Jamphel Lhundrup Gyatso (1845–1919) was Venerable Dagpo Rinpoche's predecessor and the abbot of three monasteries – Dagpo Shedrup Ling, Bamchoe and Dungkar. This master played an important role in renewing the teaching of lamrim, the stages of the path to enlightenment, in central and southern Tibet.
The following masters were some of his previous incarnations:
In the time of the previous Buddha, the famous Bodhisattva Sadaprarudita (in Tibetan Tag Tu Ngu "Ever Weeping"), known for his great devotion to his spiritual master and for his remarkable guru devotion.
The 4th c. Indian scholar Gunaprabha, a disciple of Acharya Vasubandhu and the author of the Vinayasutra, a fundamental treatise on monastic discipline.
The 10th c. the Indonesian Guru Suvarnadvipa Dharmakirti (Tib. Lama Serlingpa Choe kyi Dragpa). He was the main master of the great Indian teacher and scholar Atisha Dipamkara Shri Jnana who travelled thirteen months by sea to receive the important instructions on generating the spirit of enlightenment (bodhicitta) that Guru Suvarnadvipa held. In the 11th century Atisha played a vital role in renewing Buddhism in Tibet. For that purpose he wrote the Lamp for the Path to Enlightenment, an exhaustive account of the spiritual path and the source of the lamrim.
In Tibet, Marpa the Translator (1012–1097) who founded the Kagyu Order and guided the famous yogi Jetsun Milarepa to complete enlightenment.
Longdrol Lama Rinpoche Ngawang Lobsang, a disciple of the seventh Dalai Lama, Kalzang Gyatso. He became one of the most celebrated masters of his time, the author of more than 23 books and the teacher of great scholars such as Konchog Jigme Wangpo, the reincarnation of the Kunkhyen Jamyang Shepa.
Several abbots of Dagpo Shedrup Ling Monastery.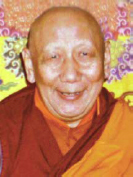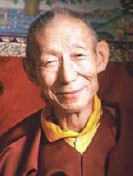 Dagpo Lama Rinpoche Jamphel Lhundrup's most famous disciple was Pabongkha Dorje Chang, who authored the lamrim entitled Liberation in your Hand. Other major disciples include Their Eminences Kyabje Ling Rinpoche (left) and Kyabje Trijang Rinpoche (right), Tutors to His Holiness the Fourteenth Dalai Lama. Kyabje Ling Rinpoche also held the position of Ganden Tripa, the head of the Gelug Order from 1965–83.
---
Copyright © Institut Ganden Ling - Tous droits réservés