| | |
| --- | --- |
| News | |
Teaching of Venerable Dagpo Rinpoche
Venerable Dagpo Rinpoche will teach in Shedroup Ling Monastery in Kaïs from Monday, October the 15th to Friday October the 19th or Sunday October the 21th. Registrations are closed.
---
Monthly weekend session
Next weekend sessions will be on November 24 and 25 2018 at Veneux-Les Sablons.
Following weekend sessions will be on December 15 and 16 2018, January 19 and 20 2019.
---
Drepung Gomang monks tour 2018
We are pleased to welcome the monks of Drepoung Gomang monastery on tour at the Forum in Paris from Tuesday, October 30 to Thursday, November 1 and in Veneux-Les Sablons from Friday, November 2 to Sunday, November 4 2018. following the program below.
---
Guépèle Editions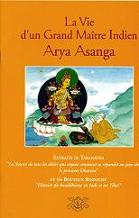 La Vie d'un Grand Maître Indien : Arya Asanga

According to Taranatha and Bouteun Rinpoche
Arya Asanga, one of two "pillars" of the Mahayana (Great Vehicle), made an extraordinary contribution to the development of Buddhism. Born in the fourth century AD in the part of India that has become known as Kashmir today, this philosopher shared the Madhyamika philosophical views of the first pillar, Nagarjuna. He is nevertheless the author of the founding treaties of a system other than his own: that of Buddhist "idealistic" philosophy, the cittamatra school. see more>
---
Copyright © Institut Ganden Ling